Check your Google Rankings
Google Top 100 Rankings
Shows the Google Top 100 (+/-) search results for a given keyword
No personalized search results!
Mobile or Desktop rankings
Live ranking check of Google search engine result pages (SERPs)
Free ranking check without limits
For more than 100 Google Versions
The free SEO Ranking Check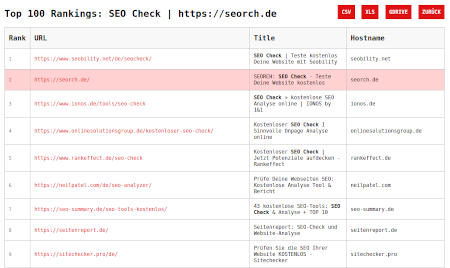 The free SEO Ranking Check from SEORCH quickly and reliably shows the Google Top 100 search results for a specific keyword for dozens of countries. With this tool you can easily determine your SEO rankings and find out the position of your website for a keyword for various languages.
You can do the Google Ranking Check with or without a URL, the search results are the same in both cases. If you also enter the URL, your ranking for this domain will be highlighted when found in the Top 100 Rankings for the query. When you start the analysis, it can take a few seconds until the result is available. This is because we query the rankings live from the search engine and have to bypass the Google Captchas.
Why should you use the live ranking check?
You coukd also check that yourself in Google. The Google search results are mostly personalized and localized, so if you frequently use Google as your search engine, Google will remember the keywords you used in previous searches. In addition, Google tries to get your location and display localized search results based on it. Over time, you will see rankings that are tailored to your search behavior and accordingly not the rankings that the majority of users see.
The search results or Google rankings are therefore not comparable. For search engine optimization, however, it is relevant to see search results that are as neutral as possible, since these placements are displayed on average for all users. The SEORCH ranking check behaves as if a user were using Google for the first time, there is no history and the location is neutrally related to the respective country.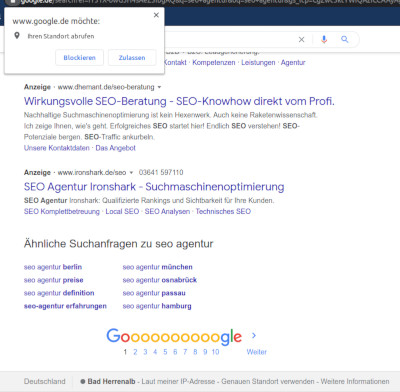 What influences the display of search results:
the personal search history (cache and cookies)
the location based on the IP address or via GPS
if you have a Google account: age, gender, interests
Google Ads
the search intention (Transactional, Informational ..)
the hardware (smartphone, tablet, desktop, laptop)
the web history, Google often knows which pages you have already visited (carry-over effect)
Google Core Updates, different data centers show very different positions for the same keyword
the browser, Chrome collects and transmits far more data than Firefox or Safari
Why should you check your rankings regularly?
SEO and search engines change over time. Keywords with which you successfully achieved good rankings years ago can be taken over by competitors, or you have lost places due to a core update. A ranking tool helps you to keep track of these changes. You can see quickly when it becomes necessary to optimize your website or blog. For new content, you can spontaneously check your rankings and test your SEO measures to see if you are found. You can of course also do this manually, but rank checkers and ranking tools will help you and can simply save a lot of time. Especially if you want to check your positions in other countries and languages. You will also see the top 100 search results, including their titles, without advertising or other information.
Permanently monitor rankings - website or keyword monitoring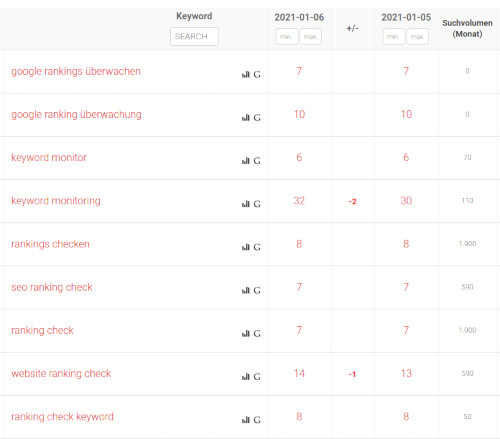 A website ranking check takes the work off your hands, but you still have to manually check your keywords every day. SEO professionals use a keyword monitoring tool. These tools can automatically monitor hundreds or thousands of search terms for their position every day. As a user, you only have to enter your keywords once, select the search engines and you can start monitoring. You can receive a summary of the development of your rankings and the optimization of your website by email on request.
In addition, these tools offer a history of your rankings over the last few months, extensive functions to monitor the rankings of your competitors and detailed individual views for each keyword. The Google search volume and alarms in the event of strong ranking changes are also included, as is extensive export functions for your reports.


Submit your email to be among the first users and enjoy an exclusive early bird discount
We are in the process of developing additional features for a non-technical SEO audit.
You can gain insights to grow your traffic quickly and easily from Google.
By pressing the "Send" button I agree to receive e-mails containing news and advertising about service development and confirm that I have read and agree with the Privacy policy.