In the digital world, achieving higher search engine rankings is essential for success. Today, we will talk about Google Search Console's Links Report, which will help you analyze and monitor the links pointing to your website. Using this Report, you will gain valuable insights, identify new opportunities, and enhance your site's overall SEO performance.
Let's explore the Links Report and find ways to improve your website's SEO strategy with its help.
Understanding the Google Search Console's Links Report
The Google Search Console Links Report gives an in-depth look at the links related to your website. To access it, navigate to the Search Console interface and select "Links" from the sidebar. This blog will discuss the metrics and data the Report offers, which can help you better analyze and understand your site's linking profile.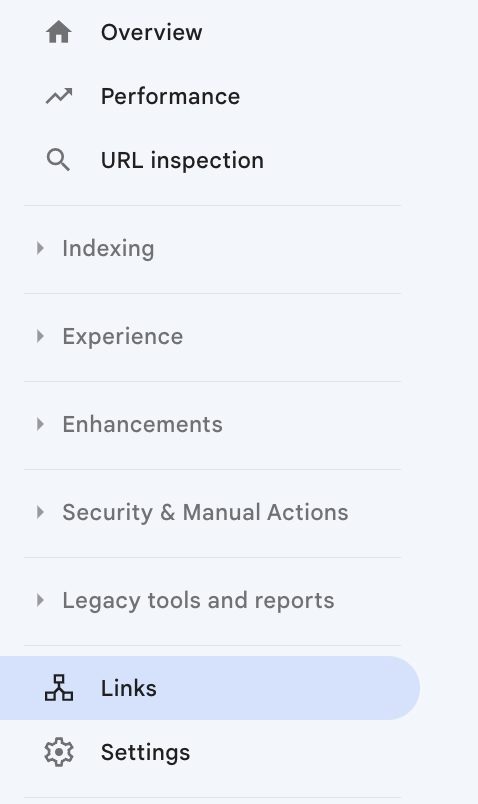 The Report has two main parts: Internal Links and External Links.

Analyzing Internal Links
Internal links are those that are within your site redirecting to your site. This feature makes the pages on your website with the most internal links visible. This can be extremely helpful as it enables you to understand the structure of your website's core pages and increase their visibility and relevance.
Additionally, you can find out which pages on your website are linked to a specific page. This information enables you to adjust your website's navigation, helping users to move from one page to another with the least amount of clicks possible.
Analyzing External Links
External links, called backlinks, come from other websites and direct users to your site. They build credibility and trust in search engine results. The Links Report shows the number of external links, top linking sites, anchor text distribution, and linking site quality.
Top linked pages identify the most linked pages on your site.
Top linking sites show sites with the most backlinks. You can see the root domain of sites with the most links to your site, sorted by count of links.
Top linking text refers to the most commonly used text in backlinks pointing to your site from external sources. It helps you understand other sites' language and phrases when linking to yours. This information can confirm if the link text aligns with your expectations and whether it is spammy or accurate in describing your site.
Top linking sites for a given page show the number of backlinks from a specific site to a particular page on your website. You can use this to track which pages benefit from reputable sites and remove backlinks from spammy sites.
Backlinks from a given site to a given page: You can see backlinks from a specific website to a particular page. You can navigate here in two ways, either through the target page or through the linking site.
Taking Action Based on the Links Report
Armed with the insights provided by the Links Report, it's time to improve your website's linking profile by:
Removing or disavowing harmful links: It's critical to do this if you find spammy or low-quality links referring to your website. By removing these links from your website using theGoogle Disavow Links tool, you may avoid any negative effects on your SEO efforts and notify search engines that you no longer want your website to be associated with those links.
Optimizing internal linking structure: You can modify your internal linking structure to enhance user experience and search engine crawlability based on the analysis of internal links. For instance, if you discover that specific pages on your website need to be better linked, you might add internal links from popular or trustworthy pages to increase their visibility and indexation.
Creating high-quality backlinks: Use your expertise in external links and concentrate on creating high-quality backlinks from trustworthy and relevant websites. It's possible to accomplish this by using a variety of tactics, such as producing helpful content that draws natural backlinks, contacting website owners for guest blogging opportunities or partnerships, and actively participating in communities relevant to your industry where you can share your learnings and gain backlinks.
Monitoring progress and evaluating results: It's crucial to regularly track your development and evaluate the results of your link-building efforts. Use the Links Report to monitor changes in your linking profile, keep track of the creation of new backlinks, and assess how well your optimization strategy is working.
Conclusion
This was the overview of the Google Search Console's Links Report, an essential tool offering insightful data about the linking profile of your website. Using the report regularly may improve your site's authority, visibility, and search engine rankings, helping you build a solid online presence and link your SEO efforts with constantly changing search engine algorithms.