If you're new to Google Search Console, you might wonder what kind of data this tool can analyze. The good news is that Google Search Console provides a wealth of information that can assist you in improving the visibility and search engine ranking of your website. It can help you with everything – from tracking your website's search traffic to identifying mobile usability issues.
Today, we'll review six different types of data from Google Search Console, each offering unique insights into your website's performance.
The Performance Data Report
The Performance Data Report is necessary for anyone looking to improve their website's search engine optimization. This tool gives you an in-depth overview of how your website's pages perform in Google search results, including the number of clicks, impressions, CTR (click-through rate), and average position.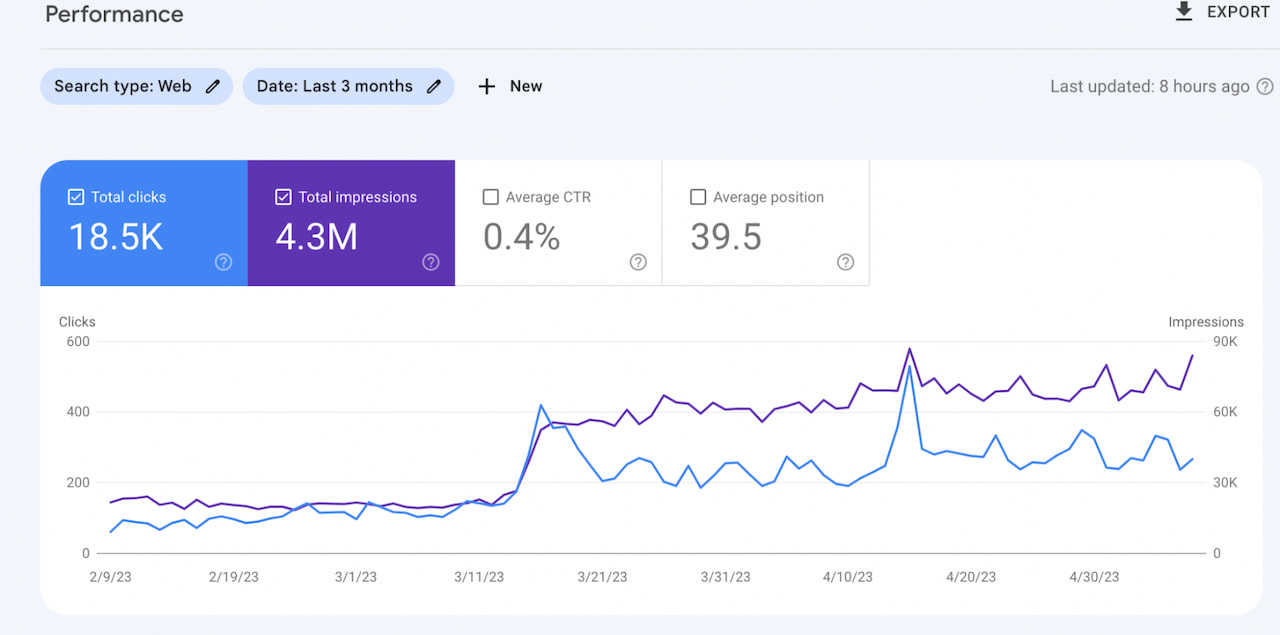 The best part? You can access up to 16 months of ranking data! It means you can see which search queries drive traffic to your site and which pages perform well over a long period. The report will also tell you which devices and countries people use to access your site. Plus, it gives you data on rich snippets' clicks and positions. This helps you optimize your website for the devices and countries that are most important to your business.
To get the most out of this tool, you must analyze your data regularly and act based on the results. If you see pages with many impressions but few clicks, consider updating your title and meta description. In addition, if you notice pages with strong click-through rates but low rankings, concentrate your optimization efforts on those pages for certain keywords.
The Index Coverage Report
One frequent issue website owners experience is that Google does not index their sites. This could be due to technical issues, poor content, or spamming links. But don't worry because the Index Coverage Report shows you which pages were indexed, which were excluded, and which had issues that prevented Google from indexing them. Once you've determined what's causing the issue, you may take the appropriate actions to resolve it and resubmit the pages for indexing.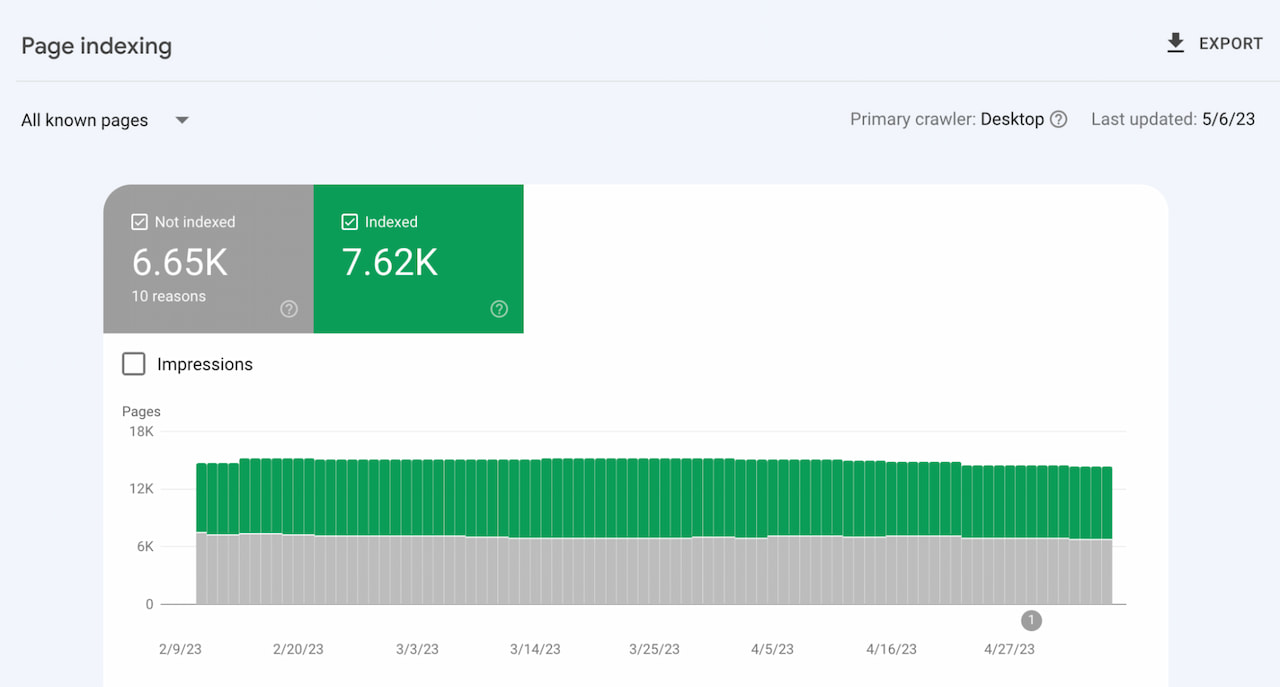 The Enhancements report
This report is packed with information to help you make your website more mobile-friendly, speedy, and optimized for search engines.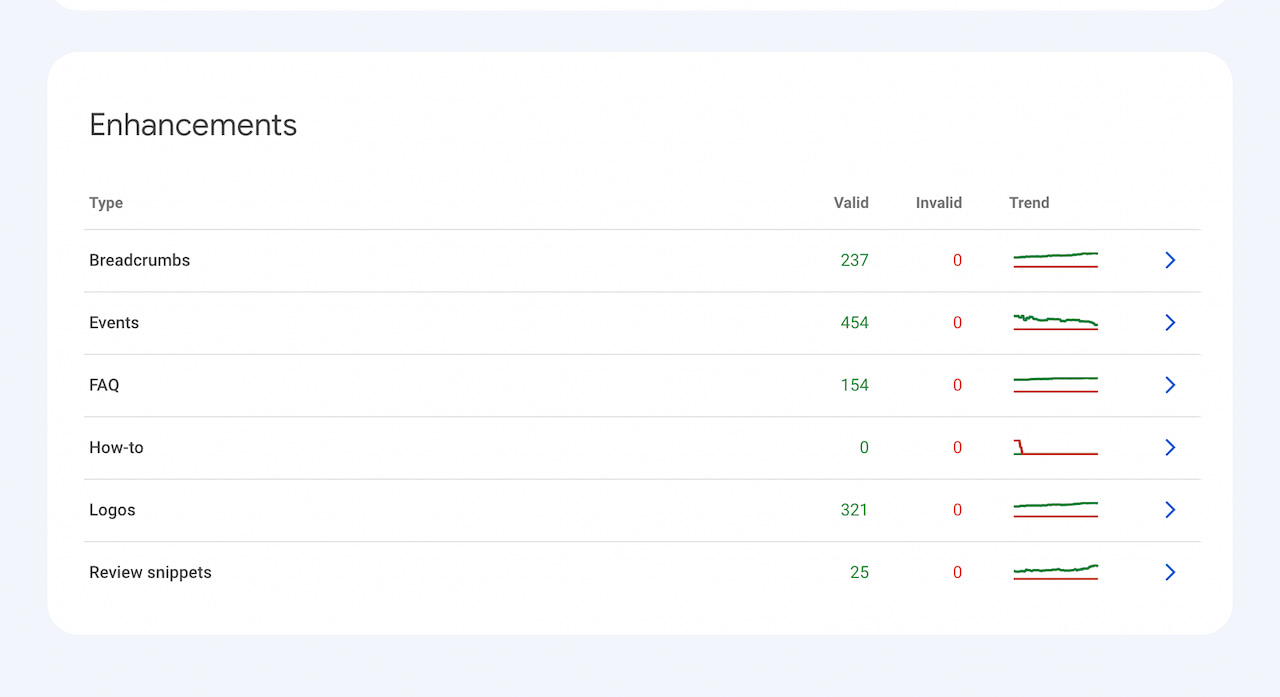 With so many people exploring the web on their phones and tablets, your website must be mobile-friendly. This report can notify you of any issues that may negatively impact your mobile experience and provide immediate advice.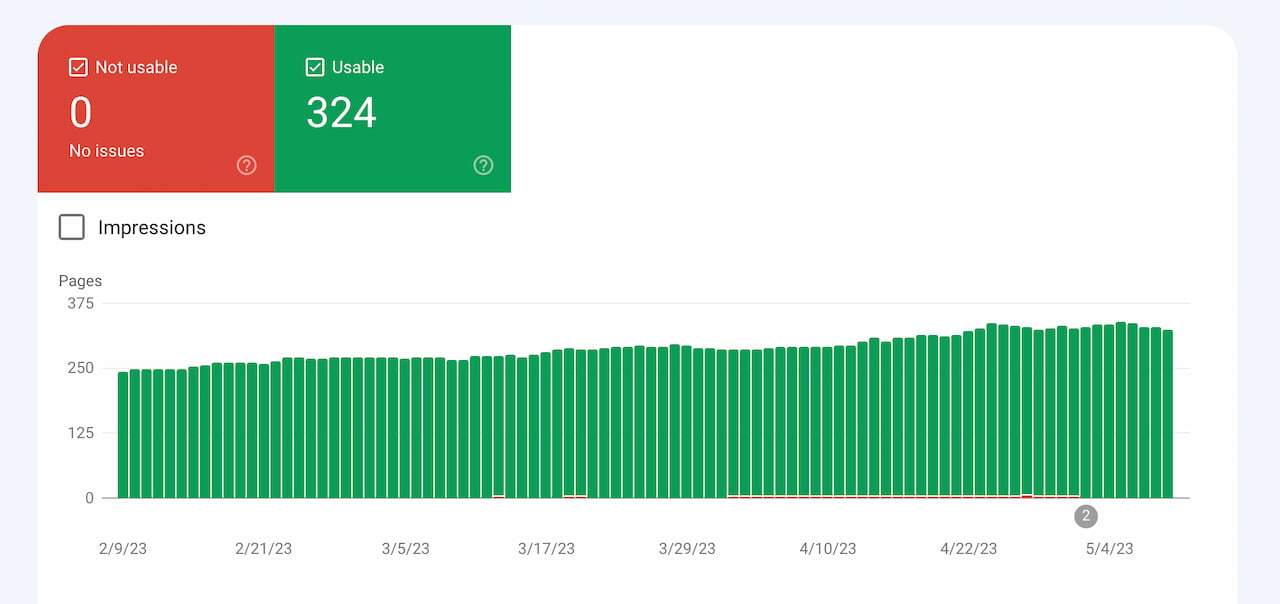 In addition, the report provides insights into HTML improvements that can make your site more search engine-friendly. Addressing issues such as missing meta tags or structured data errors can help search engines crawl and index your site more effectively, ultimately improving your site's visibility in search results.
The Links report
With the Links report, you can discover which websites are driving traffic to your site and which pages receive the most inbound links. With this knowledge, you can build relationships with high-quality referring sites and capitalize on opportunities to expand your reach and improve your search engine rankings.
But the benefits don't stop there! By analyzing your internal linking structure, you can ensure that link equity is distributed evenly throughout your site and assist search engines in understanding the hierarchy and importance of your pages. In addition, the "Top linking text" section of the report can reveal valuable information about the anchor text distribution of your external links. Analyzing this data lets you fine-tune your linking strategy to improve your website's search engine ranking.
The Security Issues report
With the increasing number of security threats on the internet, the Security Issues report is an essential tool for protecting your website from security threats and maintaining its search engine ranking and reputation.
If your website is compromised, it can be blacklisted by search engines and flagged as unsafe for visitors. This can have a devastating impact on your website's search engine rankings and traffic. Using the Security Issues report to monitor your website's security can help you avoid these issues and protect your website's reputation.
Moreover, it's simple to use, making it accessible to website owners who are not security experts. The report provides clear information about the type of security issue and recommendations for resolving the issue.
URL Inspection tool
The URL Inspection tool in Google Search Console will help you troubleshoot indexing or ranking issues with individual pages on your website. By entering the URL of the page you want to inspect, you can gain valuable insights into its crawl status, index status, and any issues affecting its visibility in search results.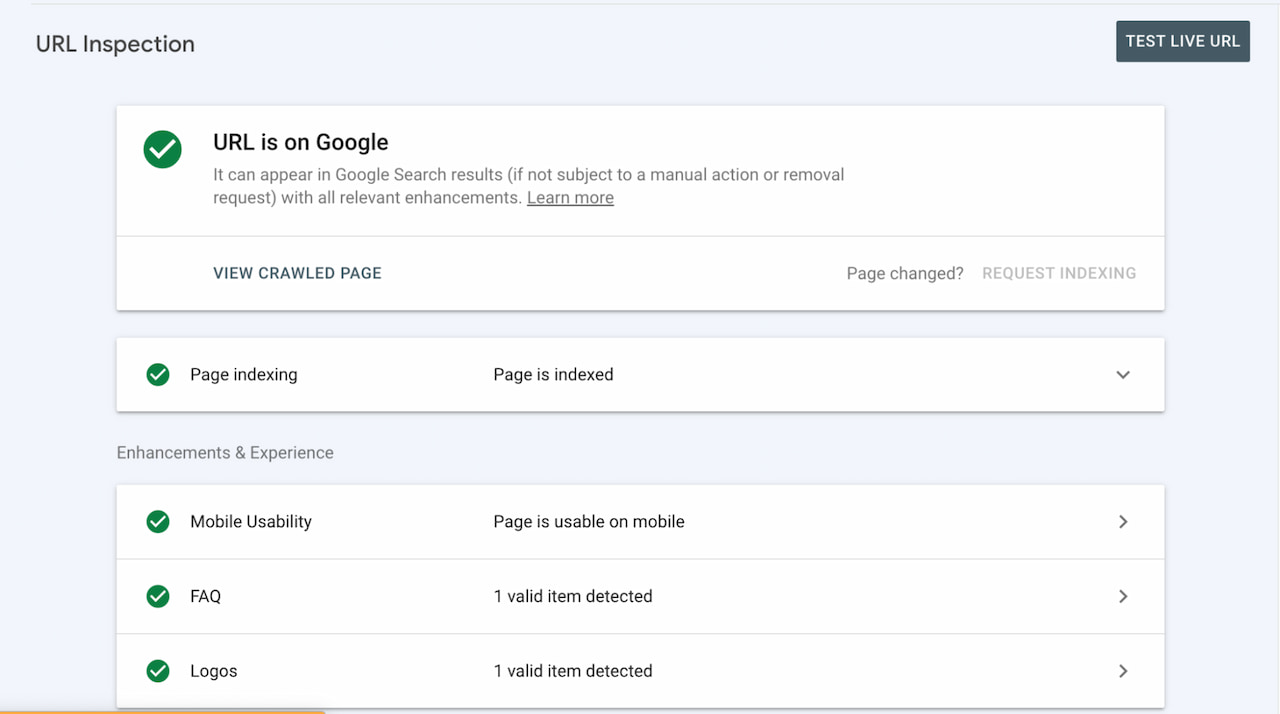 One of the key benefits of the URL Inspection tool is the ability to request indexing for a specific page. If you have made updates or changes to a page on your site and want to ensure that Google has indexed the latest version, this tool can be handy.
The URL Inspection tool also provides detailed information about errors or issues impacting a page's search engine performance. You can use this information to quickly identify and resolve problems, ensuring your site remains visible and accessible to search engines and users alike.
The experience section of Google Search Console
Google Search Console added the Experience section in 2021. Its primary goal is to provide data and insights about the user experience on your website. This section contains several reports, including the Core Web Vitals report, the Mobile Usability report, and the HTTPS report. Let's have a look at them.
The Core Web Vitals report provides data on metrics like page loading speed, interactivity, and visual stability, which are essential factors in determining the user experience of your website.
The Mobile Usability report highlights any issues with your website's mobile compatibility, which is crucial in increasing users' access to the web on mobile devices.
The HTTPS report shows whether your website is properly secured with an SSL certificate, which is essential for protecting user data and ranking search engines.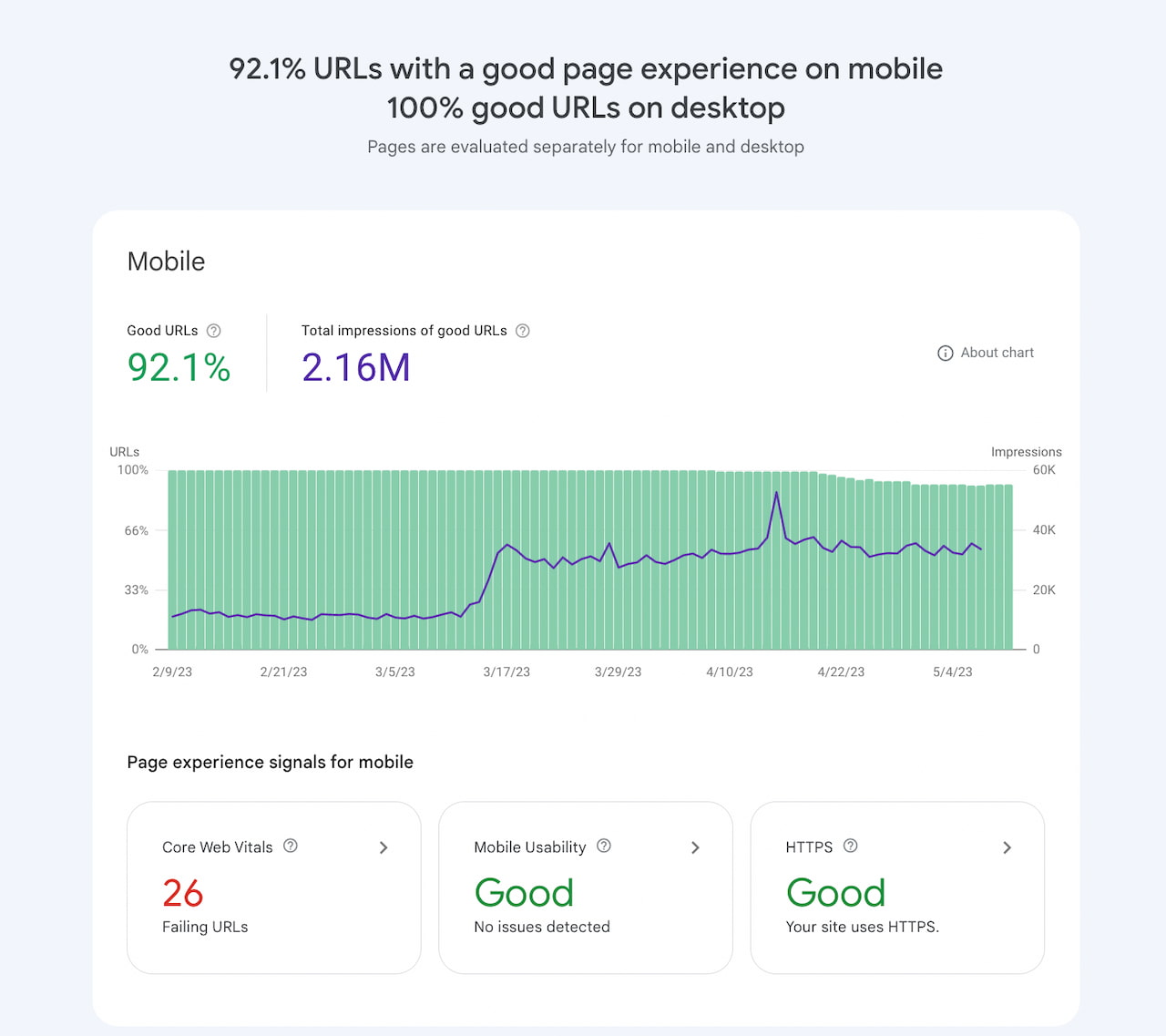 Conclusion
To summarize, Google Search Console is a powerful tool that provides valuable data on the search engine performance of your website. You can optimize your website for better search engine results, drive more traffic, and improve its overall performance by analyzing data on performance, index coverage, enhancements, links, and security issues.
Remember, using these tools and reports to analyze and optimize your website can significantly improve your search engine rankings and increase traffic and business.